Gallery
Ultra 55 RTX Next Day PC SY1686
close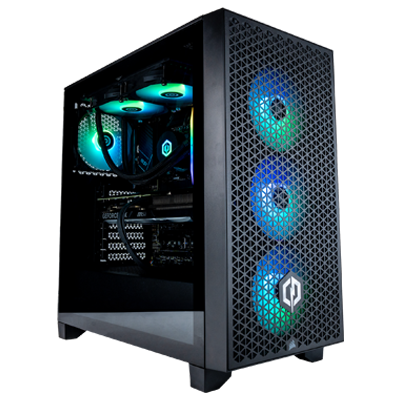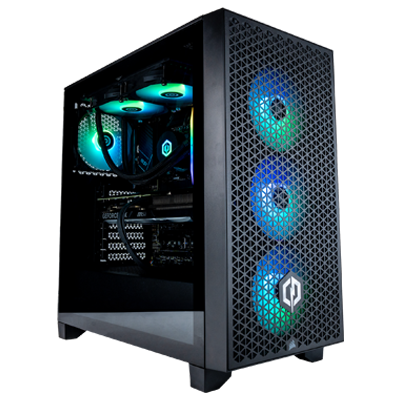 Please note: System images are an example system highlighting your chosen case. Internal components and lighting are entirely dependent on the specification of the components selected and may not be as displayed. If you have any queries regarding the appearance of your configuration, please reach out to our sales team to discuss.
Ultra 55 RTX Next Day PC SY1686
Today's Special Offers: Norton 360 VPN & Security for Gamers (Full 1 Year License)
Case: Corsair 3000D Airflow Gaming Case - Black
Fans & ARGB Upgrades: 4x CyberPowerPC Hyperloop 120mm ARGB & PWM Fan Kit
CPU (Processor): AMD Ryzen 5 4500 - 6-Core 3.60GHz, 4.1GHz Turbo - 8MB L3 Cache Processor, Pro OC Compatible (No On-board Graphics)
CPU Cooling: AMD Ryzen Wraith CPU Cooler
Motherboard: ASUS PRIME A520M-K: M-ATX w/ USB 3.2, SATA3, 1x M.2
Memory (RAM): 16GB (2x8GB) DDR4/3200MHz Kingston Fury Beast Memory
Graphics Card (GPU): AMD Radeon™ RX 6700 XT - 12GB GDDR6 - HDMI, DP - RDNA™ 2 Architecture, Infinity Cache™
Video Capture: None Selected
PSU (Power Supply): InWin P85FII 850W 80+ Gold ATX 3.0 Gaming Power Supply
NVME Drive: 1TB Kingston NV2 M.2 NVMe PCIe SSD - 3500MB/s Read & 2100MB/s Write
External And Portable Storage (USB / HDD / SSD): None
External Optical Drive: None Selected
Internal USB Hub: Built-in USB Ports
Wireless USB Adaptor: USB Wireless AC 600Mbps USB Adapter
Wired Networking: ONBOARD 10/100/1000 GIGABIT LAN PORT -- As standard on all PCs
Sound Cards: HIGH DEFINITION ON-BOARD AUDIO
Monitor: None Selected
Gaming Chairs: None
Speakers: None Selected
Headset: None
Keyboard: None Selected
Mouse: None Selected
Mouse Pad: None
Controllers: None
Webcam: None
Microphones: None
Streamer Gear: None Selected
Home Networking: None
Bluetooth Adaptors: None Selected
Cables and Adaptors: None
Power & Surge Protection: None
External USB Port and Hub: Built-in USB Ports
Ultra Care Option: None
Operating System: Windows 11 Home - with FREE trial of Microsoft 365 and 1 month Xbox Game Pass (64-bit Edition)
Software and Digital Game Codes: None
Fast Track Service: Fast Track Service !!! Ready to Ship Same Business Day if Order Confirmed by 2PM
Warranty Service: DESKTOP GOLD WARRANTY: 5 Years' Labour, 2 Years' Parts, 2 Years' Collect and Return plus Life-Time Technical Support
Power Supply:

Watt
The Power supply is very important to make sure that the computer is stable.
Required (suggested):

0

W.
Current selection:

0

W.
Warning
Power Supply doesn't match
Click to modify the power supply
close
Subtotal:
£707.5 ex. VAT
(£849 in VAT)
Delivery: Free Shipping (UK Mainland)
Estimated ship date:
Monday, 4/12/2023
Out of stock
Ultra 55 RTX Next Day PC SY1686
£707.5 ex. VAT
(£849 in VAT)